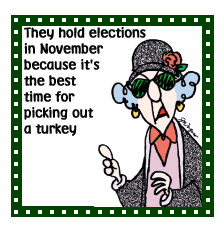 However it shakes out, I am going to be so glad to see this election cycle end. I don't know about the rest of you but I am sick of it all. The long, endless campaigning and the relentless, nasty TV ads and phone calls have just about sent me over the edge. Election cycles have become bloated, soul sucking monsters; too long and too mean. It is all out of control and both major parties are equally to blame. This election is important but I can't even muster up my usual enthusiasm to get out and vote.
I just can't make myself do it. I am fed up, disillusioned and cynical.
I am sitting this one out, folks.