And logging in my food journal. Lesson learned this weekend: No accountability means no responsibility. I wasn't as mindful and responsible as I should have or could have been. I doubt I did any real damage but I didn't do myself any favours, either.
I need to remember to keep lots of good fresh veg on hand. And prepared so that I can just grab a container of them and toss some right into my steamer.
Lunch veg: Broccoli, cauliflower and some snow peas. :D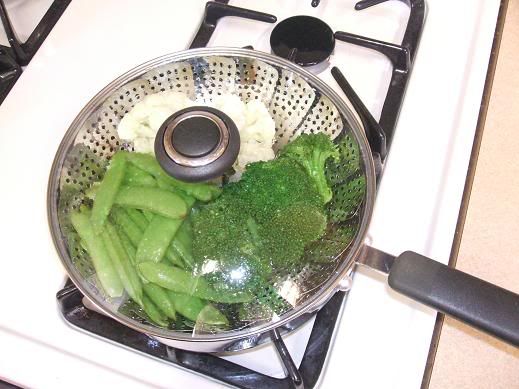 Testing for the perfect crisp-tender. I don't like veggies like mush.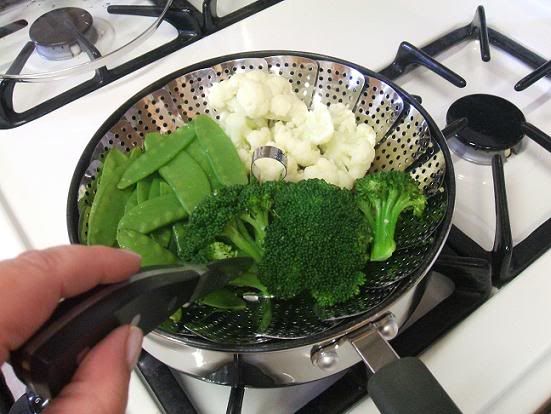 They were just right. :D
I had those veggies with a little buttery spray, a little soy drizzled over them and the last bit of left over chicken from the other night. It was a nice filling and satisfying lunch.
I find that getting plenty of protein is good for keeping me feeling full and not wanting to eat my house down.
I had steamed asparagus with my dinner. Asparagus is like a little spear of heaven on my plate. Steamed to crisp-tender perfection, sprayed with a little buttery spray, a little coarse sea salt and some fresh lemon juice. Om, nom nom nom.
Are you a sniffer? A secreter? Both?
I am both. Makes life interesting. Ha. Ha.
Finally, a new episode of
House
is recording. And our shows on CBS. Geeze! All of the networks ran mostly repeats because they were all scared of the big, bad Olympics on NBC. I watched a few events. Figure skating, of course. Some ski jumping, things like that. But I recorded the late night repeat and watched it the next day. That is one great thing about a DVR. I can fast forward through all the commercials and stuff I didn't want to watch. Made watching the Olympics a pleasure, rather than an eye rolling pain in the ass.
My son is cooking dinner for himself and his dad. Spaghetti and meat sauce. My son isn't a bad cook. He can use a microwave to great effect and can put a decent simple cooked meal on the table, too. Heck, he can even bake a cake. I think that all kids should be taught at least the basics of cooking. They should also be able to clean, do their laundry, balance a chequebook and how to handle money and say "NO!" to credit cards and credit card debt.
Today's mani

is a franken (I just love that word!) of two OPI colours, We'll Always Have Paris and Eiffel for This Color. I did a base of China Glaze Strong Adhesion Base, two coats of polish and a coat of Seche Vite Dry Fast top coat. I let it dry for about five minutes or so, did my clean up and oiled my cuticles and smeared the oil on my nails, as well then applied a lot of lotion. After about a half hour, I washed my hands well, applied a second coat of Seche and more lotion. I like how it turned out. The colour is deep and rich, the mix slightly warmed up the cool, cool deep purple of Eiffel for This Color.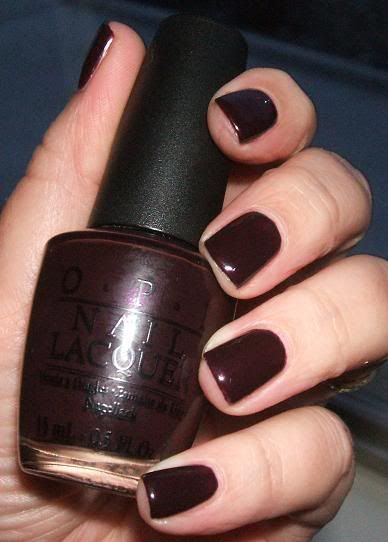 What do you think?
I think I need to get a shot of this in sunlight. I would like to see if the shimmer survived. If I remember to, I'll post it. :D
I need to get to Sally Beauty. I need acetone. Clean up of this colour is difficult with plain polish remover. And I need to get to the craft store and get paint brushes. The brush I am using is sort of okay but I think that a better brush would make the hob so much easier and faster. Tho, I must say, I was quicker with clean up, today. It is something that you get the hang of pretty quickly.
It was a pretty day, today. Sunny and warm enough to have my window open. I am wondering if we are in for an early, warm Spring this year.